Support Wasteland Bar Fight on Epocu
We're currently running an Epocu campaign for Wasteland Bar Fight. "What is Epocu?" you probably ask, glad you asked! Epocu is a kind of crowdsourcing, not for money, but for your tweets and Facebook posts. You can read more about what Epocu is and how it works on their FAQ-page.
You might follow up with "What's in it for you then?", and it's a valid question! When the campaign has run it's course and ends, all those who have supported the campaign with their tweets and posts will simultaneously share our message on their Twitter and Facebook automagically, creating a viral presence that will help Wasteland Bar Fight become more visible on the interwebs.
Sounds like something you would be willing to do for us? Head on over to our campaign page and support Wasteland Bar Fight now! 😀
Support Wasteland Bar Fight on SlideDB

We're also one of the runner-ups for SlideDB's App of the Year 2014! The highest we managed to get so far has been 6th place and that's not bad at all! But during the weekend we fell a bit down, so we would really appreciate it if you also could head on over to our SlideDB page and give us your vote! And do feel free to spread the word, so we can at least get back up to Top 10 before the first round is over 😀
And remember, they track IP-addresses for the votes, so vote from all the networks you have access to; home network, work, mobile, etc.
Just click here or click the image on the right to get to the voting page, it will only take two seconds 😀
Support Wasteland Bar Fight on IndieDB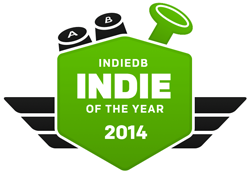 And if that's not enough, we also were one of the runner-ups on IndieDB's Indie of the Year 2014 before the weekend, but have fallen way down during this last weekend. Like above, we would really appreciate if you also could give us your vote on IndieDB's Indie of the Year 2014 too.
And again, vote from all the networks you have access to; home network, work, mobile, etc for maximum effect 😀
Just click here or click the image on the right to get to the voting page, it will only take two seconds 😀